"And I am certain that God, who began the good work within you, will continue his work until it is finally finished on the day when Christ Jesus returns." Philippians 1:6 NLT

One day, Jesus saw a man sitting at his booth and said simply, "Follow me and be my disciple." The man left his post and never looked back. (Matthew 9:9)

This same disciple went on to write the book of Matthew. His ability to crunch numbers and handle large amounts of information sure came in handy when taking shorthand notes about the life of Jesus. He was also well-versed in the Old Testament (his education would have provided the avenue for his current position). Interestingly enough, the Gospel accounts of Mark and Luke don't explicitly name Matthew's previous occupation. But Matthew wanted the world to know who he was. He was a tax collector. And tax collectors were sinners… only slightly higher on the social chain than pond scum.

Jesus came for Matthew that day. A tax collector. Pond scum (or slightly higher). The worst of the worst. Jesus looked past who everyone knew Matthew to be. And Matthew walked away from everything he knew to follow the Savior. I'm reminded of the lyric in Glorious Day. "You called my name and I ran out of that grave."

Matthew's Gospel account references at least eighteen Messianic prophecies. And there's one word that keeps coming back time and time again. It means to bring to completion or reality. The word is Fulfill.

"And I am certain that God, who began the good work within you, will continue his work until it is finally finished on the day when Christ Jesus returns."
I visited with a man today who said he was baptized a long time ago. He was close to the Lord but, for whatever reason, he drifted away. He said, "I know I missed out on all those spiritual blessings He had for me."

I said, "There's still time. God's not finished yet." And then I invited him to our candlelight service.

Many of us think we are tax collectors. We'll always be tax collectors and that's just our reality. But Jesus came to change our reality. He came to bring our lives to completion in Him. He came to make things new. He came to break chains. He came to die.

He came for you. He came for me.

Born in a stable. Nailed to a cross. Buried in a tomb. Risen from the grave. May we be lost in wonder at the amazing love of Jesu and may His love move us to action as we leave our past behind and run out of that grave!

We are Central… and we're in this TOGETHER!
SOLI DEO GLORIA
-F
---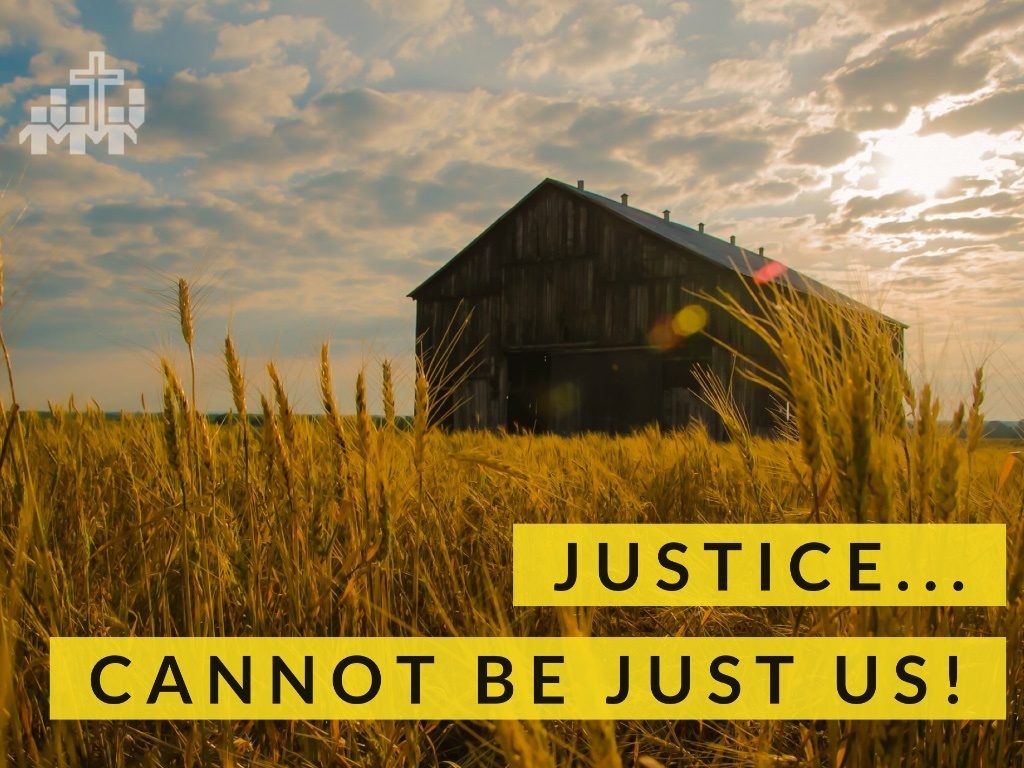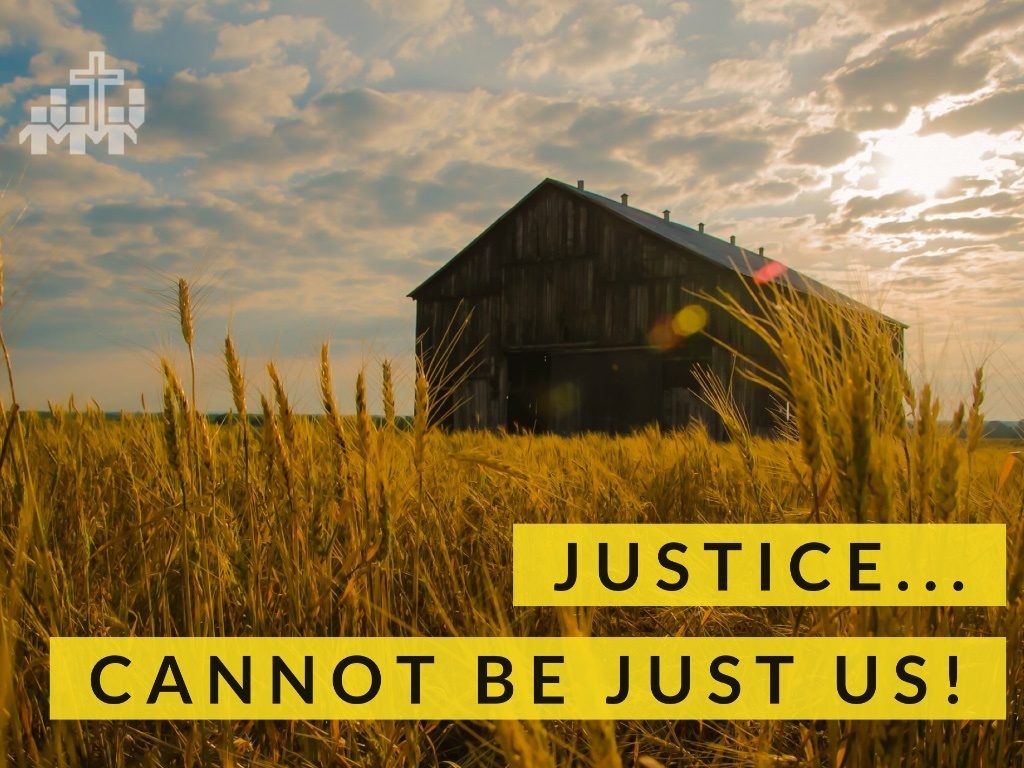 "He has shown you, O mortal, what is good. And what does the Lord require of you? To act justly and to love mercy and to walk humbly with your God."
Micah 6:8 NIV

justice – just behavior or treatment: a concern for justice, peace, and genuine respect for people.

She steps inside the empty house. It's a home filled with pictures… memories filled with love and laughter. There's a songbook on the piano. She plays for an Audience of One, reminding her soul that God is faithful.

The TV is on most of the time… not because she is watching it, but because it keeps her company. She is content and finds ways to give back to others. But it's nice to know that people are thinking about her. She hears a knock on the door. It's someone from church and they have a gift. She smiles, says "thank you," and invites them in for cookies.

The announcements are over and greeting time has begun. It's been a hard week. He doesn't have the heart to move, so he sits down and waits for someone to come over. And one handshake, one smile, one hug, could lift his spirits. It may not change his circumstances, but that simple interaction lets him know he's not alone in the fight.

People everywhere are broken but they're strong. They are strong because they have to be. But most days strength isn't enough.

Hope is enough. Jesus is more than enough. And we trust in a God that is bigger than our successes, fears, and circumstances. We have faith that God will bring us through the fire or deliver us from the fire. Either way, He is with us.

The beauty of the Gospel is the Good News. And when we share that Good News – through a gift for a widow, through a smile at greeting time, ringing bells for the Kettle Fund, pouring out ourselves for others – we realize that justice isn't just us.

Reach out to the hurting today. Put down your phone and pray for the person you said you'd pray for (that one got me this week). Take the time to do something special for someone else. And continue to join me in memorizing this verse and putting it into practice every single day.

Can't wait to worship with my Central fam this weekend!
We are Central… and we're in this TOGETHER!
SOLI DEO GLORIA
-F
---
"When He saw the crowds, He went up on the mountain, and after He sat down, His disciples came to Him. Then He began to teach them." Matthew 5:1-2
People LIKE Multiple Choice Tests. They do! They like trying to figure out their BEST option by eliminating the obviously WRONG choices. Shoot, they even made it into a game show, where you had "Phone A Friend" and "Ask the Audience" and "50/50"… where the contestant could make it EASIER to get it down to the option that has the best chance of being correct! But some people like to do that with the words of Jesus! Surely, He didn't mean ALL that stuff, did He?? Maybe we can just narrow down the choices to the ones we like and do our best, right??

But Jesus tried to tell you this is THE option you need to make! In His ministry, probably the most famous "sermon" that Jesus had was given on a Mount! You'll find it in Matthew 5, and we're going to spend a few weeks looking at that passage in these articles here. But I want you to know some backstory to the Sermon on the Mount!

~He OFTEN taught on the side of a hill or a mountain. We call this one mentioned in Matthew 5, "The Sermon on the Mount," but it probably wasn't His ONLY mountainside chat! Jesus didn't have the luxury of Sound Systems or even large Amphitheaters…so He chose to use what He himself had created! He let the sloping hills – which are plentiful all around Galilee – to be his natural speaker system. He probably went UP on the side of the hill, and the followers probably were below Him. He would then sit (as a Rabbi would have done in the synagogue) and speak loudly, to let the sound of His voice carry down the hillside.
~WE call them the "Beattitudes"…but they are not called that in Scripture. In fact, Jesus doesn't even MENTION the word "attitude" in this section! That may not be shocking to you…but it was to me! I just always assumed since we ALL call them that, and nearly every version of the Bible that I have uses that as the Header, that it probably was in there somewhere! But alas, it is not. Having said that…ALL of these statements have something to SAY about the Attitudes that believers should HAVE!
~Jesus describes BELIEVERS in a way that is counter to the culture that they see.And it still seems to be that way today! People that want to live for God, must be ready to live, to talk and to THINK in a way that seems WEIRD to the world! Now I don't think He intends for us to be WEIRDOS…just that our thought processes and action items are contrasting to the way that society says to live! To follow Jesus is to be antithetical with what Public Opinion says!


In 9 statements of "BLESSED are the…", Jesus describes a code of ethics for all believers and a standard of thinking that immediately causes us to look in the mirror and ask ourselves "TOUGH QUESTIONS!" These statements contrast Kingdom Values (things that are eternal) with the things that our world finds valuable (which are sadly temporary).

Would you join me in READING these statements and PONDERING how they can affect our days? For the next few weeks-in this article right here-we will attempt to tear into these. And as we do…I got a hunch it will cause us to THINK. But unlike the game show, Christ's teachings are NOT "Multiple Choice" where you get to take the ones that you like. They are an "ALL OR NOTHING" OPTION…with the winning prize to be a "Christ-like Life!" That's a game I would love to be in on…in fact, we all ARE! Let's make the winning choice…and have an Attitude like HIS!

SHALOM ALACHIEM (Peace Be Unto You All),
Don
---